I booked seats for my sister and I via their Whatsapp numbers, paid the deposit electronically and crossed my fingers. This was my first time travelling with this company. I just had to find out if the raving online reviews were true.
Our pick-up point was the National Gallery of Zimbabwe building in Harare CBD and by 09:50am we were on our way to Goromonzi. Pamushana assigned a vehicle and driver to us. We had the pleasure of riding on Pogba, the clean, comfortable, colorfully branded Toyota Hiace with probably the most cheerful driver I've ever met, Lee. (Everybody loved Lee!!) We are African and as expected, some of our travel mates didn't make it to the pick-up point on time. We were scheduled to leave for Goromonzi at 09:00am but alas, some of the late comers had to catch up with us close to Ruwa after we had departed. Perfect because that gave us the opportunity to jump off Pogba and take photos.
After less than an hour's drive, we arrived at Pakanaka resort. I struggle with hiding my fascination, so I found myself saying a lot of loud wow's, together with everybody on our vehicle. The place is scenic, with beautiful bushy mountains all around. The drive to the actual resort from the main gate gave me nostalgia as it felt like that at Bushman Rock safaris. The terrain is quite similar so that got me excited.
As we arrived at the reception, the stone walled buildings caught my eye. I will jump into the interior décor later but from the outside, we were impressed. Their gardens are well manicured. The highlight of the place is the man-made lakes/dams. These really sold the 'dream' to me when I saw them on Pamushana's advert.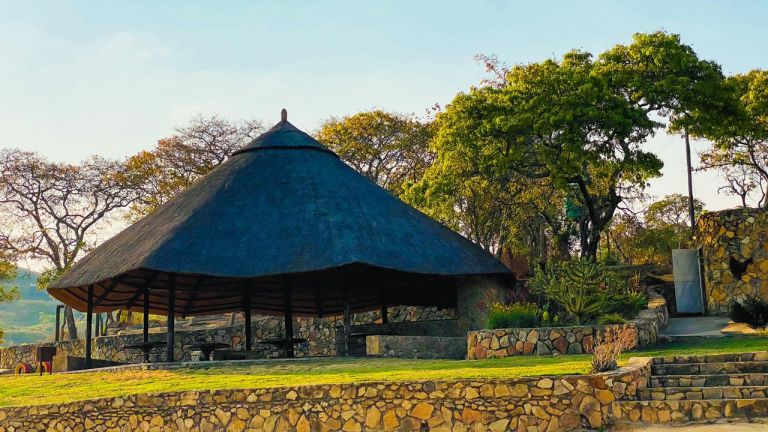 What did I get up to at Pakanaka?
I spent the bulk of my time socializing with new people that I'd met either at the National Gallery or at the venue. I'm happy to say that I made two new friends whom I'll travel with in October. I also met Tatenda, a Facebook friend I've known for years. That was quite a pleasant surprise.
Besides socializing, my sister and I set up a picnic and braai-d some meat. I'm thrilled to share that the hosts at Panakana had braai stands lit up and ready for us when we arrived. That made life for everybody so much easier as we never had the hustle of getting charcoal, lighters etc.
I also went for a hike in the hills around Pakanaka. If you love scenic walks like I do, you will enjoy doing this. And of course, I took a lot of photos. In fact, when we arrived at this resort, the first thing we did was to take an unguided tour around the place. Boy did we take a lot of pictures! We had to get shots before the place was packed, whilst we were still sober.
Besides what we got up to, Panakanaka Resort offers other activities for their visitors. There's canoeing, paint balling, miniature golfing and fishing, all pegged at $5 USD per activity. There are also facilities for team building exercises so that's exciting. I had planned to do paint balling but got caught up in socializing and hiking that I totally forgot about that. Pakanaka Resorts also has accommodation. The rooms are ABSOLUTELY GORGEOUS! Their interior décor is modern with a touch of our cultural heritage aesthetic.  I would love to spend a quiet weekend there as the place is serene and picturesque.
Tips for when you visit Pakanaka.
Bring a camera.
The place is so beautiful, you must snap parts of it! And of course, if you love outdoor photography this will be an awesome canvas to work with.
Apply sunscreen and bring a sun hat and sunglasses.
We visited in September, and it was quite sunny! If you are to do a lot of walking, sunscreen is your best friend. But there's plenty of trees around, you may not need it.
Fill your cooler box with meat and drinks.
This place is out in the wild so its best to bring your supplies with you from town. There's a cute bar at Panakanaka but unfortunately, it was empty when we visited.
Let your loved ones know you are going off grid.
I use the most popular mobile network service provider and I'm here to let you know that there's ABSOLUTELY NO NETWORK CONNECTIVITY there. However, the second most popular service provider has coverage. You know which one, wink wink. You may consider using them for your time there.
Have other activities planned out for you and your crew.
Pamushana Africa had board games lined up for us (I didn't take part; I was all over the place). Find creative ways to spend your time. If I had more time, I'd have loved to go on a nature scavanger hunt with my new friends. There's also a nice sand pitch perfect for volleyball or social soccer.
Lastly, get to the venue early to pick a preferred picnic or braai spot before it gets packed.
To my surprise, Pakanaka resort turned out to be quite popular. By midday, the place was buzzing! From groups celebrating birthdays to lovers spending time together, there was just too much going on. Around 4pm more people swarmed to the place, probably to party into the night.
Overally, I had a great time at Pakanaka resort. The toilets were clean, and the staff was very friendly, especially a lady named Sassy. They were ever ready to take care of our needs. And of course, Pamushana Africa did a great job getting us to and from the venue. Travelling with Pamushana for a day trip at Pakanaka costs $20 USD per person. This fee covers transport to and from, entrance into the venue, entertainment by a DJ and board games. Not forgetting ice-cold drinking water. The Pamushana hosts also take photos of you with your device at zero cost. Shout out to Tendai for the stunning shots. I have saved these for my Instagram! The cherry on top is that you get to be your own DJ on the Pamushana vehicles! If you decide to visit on your own, entrance into Pakanaka is $10 USD per person. For a fairly new establishment, this resort exceeded my expectations. Can't wait to visit again!
Article by Mars and the Moment